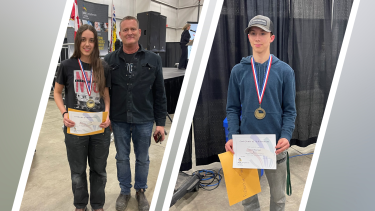 Abbotsford Students are heading to Skills Canada National Competition
May 4, 2023
Students from Abbotsford brought home 5 medals from the Skills Canada BC Provincial Competition, which took place on April 19, 2023, at the Tradex. The competition featured students from across the province showcasing their skills in trades, serving as the next round of competitions following the regionals held in early March. From Electrical Wiring, Carpentry, Automotive Service, and TV and Film, students successfully demonstrated their expertise, showcased their mastery of the trade and highlighted their creative talents.
The Abbotsford School District had yet another impressive showing at the competition, with several students earning medals in multiple categories, including two gold medals.
Automotive Service: Wyatt Rempel from Abbotsford School of Integrated Arts (ASIA) - Sumas Mountain Campus won gold; Lukas Thaler from Abbotsford Senior Secondary won Silver.
Electrical Wiring: Gabriella Neufeld from Yale Secondary won gold.
Video Production: Amy Kim and Francine Anne Baluyan from Abbotsford Senior Secondary won bronze.
These wins are a testament to the hard work and dedication of the students, teachers, and staff of the Abbotsford School District. Gold medal winners Wyatt Rempel and Gabriella Neufeld will now move on to represent the school district at the National Competition, held on May 25-26, 2023, at the RBC Convention Centre in downtown Winnipeg. Skills Canada's National Competition is a highly prestigious event, and the Abbotsford School District is confident that its students will continue to excel and make the district proud.
Congratulations to our medalists from the Provincial competition, and good luck to our students competing on the national stage!
View the complete list of winners from the Skills Canada BC Provincials 2023
---
About Skills Canada BC 
Skills Canada British Columbia (SCBC) is a leader in the development of innovative, hands-on learning experiences for youth in British Columbia. By creating conditions for young people to succeed in the trades and technologies, SCBC aspires to reposition skilled work as a preferred career pathway for youth in the province. SCBC offers programming to middle school (grades 6 – 10), secondary (grades 11 – 12), and post-secondary institutions designed to inspire, develop, and elevate youth in skilled trades and technology careers. Each year, SCBC helps thousands of students explore rewarding careers in the skilled trades and technology sectors.