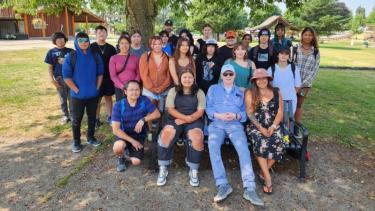 District Summer School Program Cultivates Indigenous Learning
September 8, 2023
The Abbotsford School District's Summer School Program at the Mamele'awt Indigenous Centre concluded the last week of July, celebrating a successful initiative that provided 25 students in grades 9-11 with an enriching hands-on learning experience immersed in Indigenous culture and heritage. The program, which ran from July 4th to July 28th, offered an innovative approach to education with a focus on land-based learning. 
The program allowed students to earn credits toward graduation in Social Studies or BC First Peoples, in addition to an elective in textiles, woodworking, art, tourism, or leadership. This unique opportunity enabled the participants to immerse themselves in a diverse range of subjects, fostering a deeper appreciation for Indigenous history, art, and traditional practices. 
Under the guidance of Elder Cyril Pierre from Katzie First Nation, local Indigenous community members, and district Indigenous support workers, the students embarked on an educational journey of self-discovery and cultural teachings. The program's Teacher for Indigenous Success supported the students throughout their learning journey. 
Participating students had the opportunity to acquire traditional skills such as weaving with cedar and carving a canoe. They also explored their artistic talents by designing and painting paddles, reflecting the interplay between art and cultural significance. These hands-on activities nurtured a strong connection to their heritage and paved the way for a more comprehensive understanding of Indigenous practices. 
The program's highlight was the creation of a large commemorative canoe that served as a tribute to the students who attended the former St. Mary's Residential School. A grant in the amount of $25,000 was awarded to the program from Parks Canada to support the Residential School Commemorative Project. Through this project, students learned about the history of Indigenous peoples in Canada and gained a profound understanding of the significance of preserving and honouring cultural heritage. 
Noted by Parks Canada: 
"We are pleased to contribute a $25,000 grant to the Abbotsford School District for their Indigenous Summer Program: Residential School Commemorative Project. This initiative, and others like it, underscore our dedication to empowering Indigenous communities to narrate their stories on their terms. Our efforts to honour the legacy of residential schools, recognize the contributions of Indigenous peoples to Canada's history, and commemorate residential school sites align with the Government of Canada's commitment to Call to Action 79." 
The program extended beyond the classroom, as students engaged in an unforgettable canoe trip with the Chilliwack RCMP and Abbotsford Police Department. Indigenous youth paddling with members from Chilliwack RCMP and Abbotsford Police Department was important to help break barriers of distrust, make connections, and learn and teach protocols on and off the water. The additional off-site excursions with First Nations communities and parks also allowed students to learn from real-life experiences and interact with the broader community while fostering a spirit of collaboration and inclusivity. 
The Abbotsford School District Summer School Program has proven to be instrumental in promoting Indigenous education and fostering cross-cultural understanding. The program has paved the way for a more inclusive and equitable education system by encouraging land-based learning and incorporating essential cultural teachings. 
The Abbotsford School District is immensely proud of the students who participated in this transformative experience and commends the dedication of Elder Cyril Pierre, the other Elders, district Indigenous support workers, and the Teacher for Indigenous Success in nurturing the students' growth.