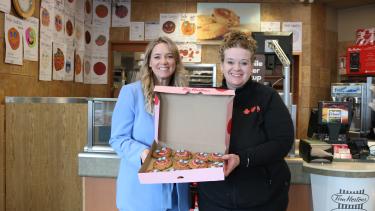 Smile Cookie Campaign Supports Abbotsford Students
May 3, 2023
Smile Cookie Week is here, with Tim Hortons announcing that the annual campaign will take place from May 1 – 7 in communities nationwide. In Abbotsford, 100% of the proceeds collected from the sale of the iconic pink and blue smile cookies will go directly to the Abbotsford School District's "Back to School" event, providing students and families who need extra support with a backpack of school supplies, hygiene products, and food hampers.
"The Board is keenly aware of the critical importance of food security as the number of families and students requiring support continues to grow year after year," notes Korky Neufeld, Chair for the Abbotsford Board of Education. "We deeply appreciate our local Tim Hortons restaurants for selecting our 'Back to School' event as a potential recipient for the campaign and are thrilled to have been nominated."
Every September can be a month of anxiety and stress for families as it presents the back-to-school season for children. Organized in partnership with several community stakeholders, the Abbotsford School District's "Back to School" event has supported students and their families in the community for the last five years. Over the years, the Abbotsford School District has been working in partnership with a number of community stakeholders, including the Abbotsford Food Bank, The Salvation Army Centre of Hope, and Relate Church, to host the annual back-to-school event. Since its inception, over 20,000 students have been supported in the community.
Last year, Tim Hortons restaurants across Canada raised a record-breaking $15 million for over 600 local charities and community groups, a truly incredible accomplishment contributing to the Smile Cookie legacy of over $90 million raised since the program's inception.
Visit your local Tim Hortons between May 1 - 7 and buy a Smile Cookie for $1.50 (plus tax) to support Abbotsford students!
---
MEDIA CONTACT
Abbotsford School District
Kayla Stuckart | Manager, Communications
Ph: (604) 614-5207 | kayla.stuckart@abbyschools.ca
Tim Hortons
Ben Yip | Regional Marketing Manager, BC & Yukon
Ph: (604) 351-2552 | byip@timhortons.com